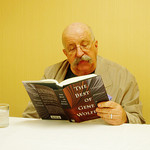 Science Fiction and Fantasy Writer's Of America has chosen Gene Wolfe as the 2012 recipient of the Damon Knight Memorial Grand Master Award for his contributions to the literature of Science Fiction and Fantasy.
First published in the 1960s, Gene Wolfe is best known for the novels The Book of the New Sun, Peace, and The Fifth Head of Cerberus, and has recieved multiple nominations for the Nebula, World Fantasy and Locus awards, all of which he's also won at least once.
In announcing the SFWA's selection, it's president, bestselling author John Scalzi said: "You'd have to search far and wide to find a contemporary fantasy writer who has not been directly influenced by Gene Wolfe. His prose is a joy to read, his stories are dense and deep, and his worlds are dark and rich beyond compare. And to top it off, he is a genuinely delightful human being. It is well past time that his stories, his style and his contribution to our genre and to literature in general are recognized and celebrated with a Grand Master award. I am thrilled and humbled that Gene has graciously agreed to be our recipient this year."
Previous receipient, Connie Willis (2011) offered these words: "Oh, how wonderful that Gene Wolfe is going to be a Grand Master, even though of course he already is in the minds of everyone who's ever read his books or who's ever known him! He's one of the loveliest people it's been my privilege to know in science fiction–courtly, kind, frighteningly intelligent, and at the same time endlessly patient with us lesser mortals. I know everybody will be praising his books during the next few days, and deservedly so, but I also want to put in a word for his equally amazing short stories, like "The Island of Dr. Death and Other Stories" and "The Death of Dr. Island"–even his titles are brilliant!–and "Golden City Far" and "The Detective of Dreams" and "Memorare." And especially "Seven American Nights," which served as my first–and staggeringly memorable–introduction to him. Congratulations, Gene! SO well-deserved! And such good news!"
Author Neil Gaiman says of Wolfe: "It's not that Gene Wolfe is, in the opinion of many (and I am one of the many), our finest living science fiction writer. It is that he is, in the opinion of the Washington Post (and of me, too) one of our finest living writers. He has been our uncrowned Grand Master for a long time, and now the rest of the world will know as well."
Upon learning of the SFWA's selection, Wolfe responded: "There was a time – long ago to most of you, though it seems recent to me – when Rosemary, our children, and I were living from paycheck to paycheck and barely getting by. I'd had three not-terribly-good stories published in a college magazine before I went into the Army, and I thought I might just possibly write on the side and make us a little extra money. I sold a few stories. Then it was time for school to start again, and Rosemary began badgering me for money for school clothes. I would gladly have given it to her if there had been any. Another story, "Car Sinister," sold, and instead of depositing the check I got the manager of the hardware store to cash it for me. I took it to Rosemary: 'Here's every dime I got for that story. That's how much you have for school clothes.' A few days passed, and I was sitting on the kitchen floor trying to mend a chair. Rosemary came up behind me and said, 'Shouldn't you be writing?'
That's when I knew I was a writer.
You'd better watch your step, folks; you're raising me to a height I would never have imagined. If you keep this up I'll start thinking I'm a good writer."
The SFWA awards The Damon Knight Memorial Grand Master Award for 'lifetime achievement in science fiction and/or fantasy.' Wolfe joins the ranks alongside such legends as Michael Moorcock, Anne McCaffrey, Ursula K. LeGuin, Isaac Asimov, Ray Bradbury, Robert Silverberg, Willis and Joe Haldeman. The award will be presented at the 48th Annual Nebula Awards Weekend in San Jose, CA, May 16-19, 2013.
More information on the award's history and the Nebula Award Weekend can be found at: http://www.sfwa.org/nebula-awards/nebula-weekend/
The SFWA's full announcement can be read at: http://www.sfwa.org/2012/12/2012-damon-knight-memorial-grand-master-awarded-to-gene-wolfe/
---
Bryan Thomas Schmidt is an author and editor of adult and children's science fiction, fantasy and humor books, short stories and articles. A frequent contributor to blogs like SFSignal, Adventures In SF Publishing, Grasping For The Wind and To Be Read, he also hosts Science Fiction and Fantasy Writer's Chat under the hashtag #sffwrtcht on Twitter and blogs about writing and creativity on his own blog at www.bryanthomasschmidt.net/blog. Connect With Bryan On Google+
Join our email list
Never miss another "to be read" book!