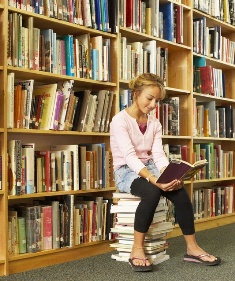 So much for those who say Libraries are a dying breed. According to a Pew Research Center study cited by Shelf Awareness, 6 in 10 Americans between 16 and 29 years old used their public Library, the youngest especially likely to have done so within the past year. The same study found that 83% of Americans between 16 and 29 read a book in the past year, 75% having read print books, 19% e-books and 11% audio books.
Nearly 3000 respondents were surveyed by phone and their responses combined with comments from an online panel.
Other interesting findings:
Among Americans who read e-books, those under age 30 are more likely to read e-books on a cell phone (41%) or computer (55%) than on an e-book reader such as a Kindle or Nook (23%) or on tablet (16%).
Some 47% of younger Americans read long-form e-content such as books, magazines or newspapers.
52% of respondents who have not borrowed e-books at libraries said they didn't know they could do so.
For the full article, see: http://libraries.pewinternet.org/2012/10/23/younger-americans-reading-and-library-habits/
---
Bryan Thomas Schmidt is an author and editor of adult and children's science fiction, fantasy and humor books, short stories and articles. A frequent contributor to blogs like SFSignal, Adventures In SF Publishing, Grasping For The Wind and To Be Read, he also hosts Science Fiction and Fantasy Writer's Chat under the hashtag #sffwrtcht on Twitter and blogs about writing and creativity on his own blog at www.bryanthomasschmidt.net/blog. Connect With Bryan On Google+
---
Join our email list
Never miss another "to be read" book!