I don't know about you, but I've really gotten hooked on urban fantasy lately. At first the idea of ghosts and vampires left me cold: been there, done that. But as I discovered through these creative series, we have only scratched the surface of the innovative possibilities this genre holds, and here's eight examples: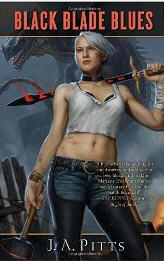 1) Sarah Beauhall by  John A. Pitts – Another where I love the writer as a person but the description didn't enthrall me. And again, I was soooo wrong. (Are you noticing a pattern?) Pitts has taken the old tropes and made them new with this one. Also set in the Pacific Northwest, Sarah Beauhall is a blacksmith apprentice and movie props maven whose prop sword turns out to be a magical dragon killing sword. The magical dragon killing sword. And she finds this out, of course, by encountering someone looking for the sword to kill dragons. But these are not the green, scaly dragons of legend and lore just yet. They are men and women who work on Wall Street and various places. And when their schemes begin to threaten Sarah and her world, she puts her sword to good use. Great fight sequences, a fun play with an SCA-like reenactment group, nice humor, and a touch of romance with Sarah struggling to open up to her girlfriend.  Packing enough testosterone-laced action to satisfy male readers and enough romantic emotional moments to please female readers, this series is for everyone and books 2 and 3 are out too. Fantastic!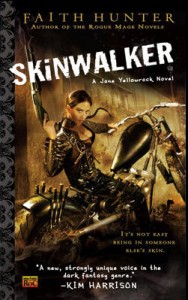 2) Jane Yellowrock by Faith Hunter – A member of the illustrious Magical Words blog team with David B. Coe, amongst others, Hunter has been inspired by Anne Rice but made vampire tales set in New Orlean's her own. If you read my introduction, you already know I would not have picked me up if her publicist hadn't scheduled her for SFFWRTCHT. I'm so glad she did. The last of her kind, a part Cherokee vampire hunter and skinwalker capable of shapeshifting into any creature she wants, Jane's been hired by Katherine Fontaneau, one of the oldest vampires in New Orleans and the madam of Katie's Ladies, to hunt a powerful rogue vampire who's killing other vamps. In the process, she gets more than she bargained for when her employer is murdered and Jane winds up working for Leo, the head vampire of the entire region. In subsequent books, she works with Leo to investigate incidents involving other vampires, even heading off to North Carolina at one point as a mediator. Jane is not the dainty heroine but an ass kicking, motorcycle riding, take no prisoners badass, but yet Hunter manages to write the books with no gratuitous sex, violence or language, keeping it PG despite the violence. And I doubt you'd have noticed if I hadn't said that. Great writing, inventive worldbuilding and pure fun. Highly recommended.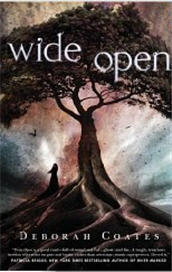 3) Hallie Michaels by Deborah Coates – Brand new, the first book having just arrived a few months back, this series surprised me too. A new author sent to me by Alexis Nixon, publicist at TOR, Coates' stories have appeared in Asimov's, Strange Horizons, Fantasy and Science Fiction and Best American Fantasy, amongst other places. Hallie Michaels is a soldier fighting a war in Afghanistan when she's called home for her sister's funeral. The police and townsfolk say "suicide," but Hallie can't believe it and her investigation into it uncovers a startling plot that endangers the entire town. Something magical or supernatural is going on and a trail of bodies are associated with it. She soon discovers someone she used to know is responsible and winds up fighting for her life. I don't know where book 2 will take us when it comes out, but Coates used the rural South Dakota setting masterfully in Wide Open and I can't wait to read more!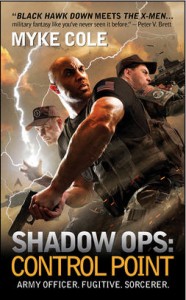 4) Control Point by Myke Cole – Not your typical urban fantasy, Cole, a veteran of the Gulf War, has envisioned a contemporary world with various types of magic. The military even has a special unit assigned to hunt down rogue users. A few with the approved classes of magic actually work for the military, but then Oscar Britton finds out he's a portomancer–ah oh, verbotten–and he's forced to run, leaving everything behind. Caught and interned for training by the military he's sworn to serve, he discovers the gift is the least of his worries. An evil magical force is on the rise and this Army officer must save the world or else.  Packed with action and intrigue and great characters, Cole takes you inside military life in an intimate way and still makes you believe its a world where magic could happen. Gritty and powerful, this book opened my eyes to possibilities for creativity I hadn't imagined and it'll open yours too.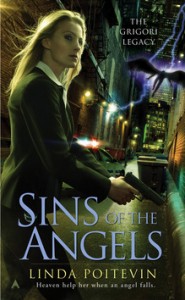 5) Grigori Legacy by Linda Poitevin – Ah, angels, the tired 80s trope are back. I booked Linda for chat and expected to be bored. Instead, I found myself reading two detective thrillers that just happened to have angels in them. Heaven and hell are at war and humans are caught in between, including homicide detective Alexandra Jarvis whose investigation of a serial killer points to a surprising and unusual suspect. Yes there's angels and a romance between an angel and a human. Yes, there's God and the Devil and some Catholic theological worldbuilding used here, but Poitevin used it to enhance worldbuilding not to sell an ideology or religion. Gritty, intense, fast-paced and engaging. Another set of books you won't want to put down until you reach the end.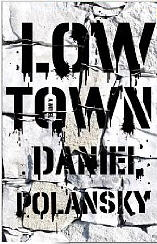 6) Low Town by Daniel Polansky – Another departure and one that's hard to classify but I'm putting it here. Unlike the others, it's not set in our contemporary world but a fictional medieval -type world and the protagonist is a disgraced intelligence agent and forgotten war hero turned independent drug dealer. Yes, that's right. Known as the Warden, he leads a life of crime, addicted to cheap violence and expensive drugs as he constantly hustles for customers and protecting his turf from competition. Then he discovers a murdered child and feels compelled to discover who's responsible. The mission finds him caught up in a dangerous game of deception between underworld bosses and the psy­chotic head of Black House intelligence bureau that once employed him. What he finds is far more sinister and dark than he'd ever imagined. Noir and action packed, Polansky has invented a genre almost. He mixes epic/adventure fantasy and urban fantasy with detective noir seamlessly and it's a compelling debut. Book 2 arrives this Fall.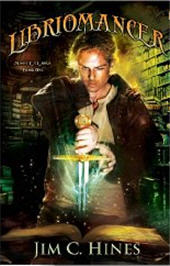 7) Magic Ex Libris by Jim C. Hines – Hines switches from Goblins and fairy tale princesses to an urban fantasy about Libriomancers, basically people who can pull magic from books and use it in the contemporary world. Hines is a smartass in real life and it extends to his writing, but that's okay, because the book is laugh out loud funny as a result and endears you tot he characters. This is a voice you'll be willing to spend time with for a while, and it won't be long because Libriomancer is a fast, compelling read.   Isaac Vainio, a member of the secret order of Libriomancers founded by Johannes Gutenberg himself (yes, that Gutenberg), Isaac is attacked by vampires that leaked from the pages of books into our world and barely manages to escape. Then he discovers his mentor has been killed and Gutenberg himself kidnapped and a hot, motorcyle-riding dryad shows up asking him to help track down her former lover, leading to their discovery of a dark power that's manipulating both vampires and humans and causing major havoc.  Hines cleverly incorporates the mythos of every vampire world you've encountered, creating a world of vampire types and layers, and throws in books by famous authors real and imagined as well. Fun, fast-paced, with plenty of action and good coming of age and romantic arcs, this book was a delightful way to while away hours. I can't wait for the second one, coming from Daw next year.
8 ) Thieftaker by DB Jackson. Historical fantasy set during the pre-American Revolution Colonial days is probably the last place you'd expect to find good urban fantasy, but Jackson's debut tale of thieftaker Ethan Kaille so captures the urban setting of colonial Boston that it does exactly that. Imagine, if you will, the dark streets of Boston. Trouble is afoot, a revolution against the wealthy and the authorities. Equality and justice are demanded by protesting crowds, some of which get out of hand at times, leading to smoky, dark nights. Add to that ghosts and dark magic at hand, a secret sorcerer working his will in the midst of the chaos. Sounds like a pretty good urban fantasy, right?
Kaille is a thieftaker, one who hunts down stolen property for a fee and returns it to its rightful owners. What separates him from his competition, however, is a gift for conjuring. He was born with the gift, inherited from his mother, and now he's investigating the theft of a brooch off the neck of a murdered daughter of one of Boston's wealthy merchants and uncovering a far more dangerous scheme in the process.
Attacked by his main rival, Sephira Pryce, a thieftaker who rules the city in ways less honorable than Ethan and many of her trade, and hunted by the authorities, Kaille discovers the girl is far from the only one to die as she did and his drive to find the truthbrings him into encounters with the British leadership, upper crust merchants, and even Samuel Adams himself.
The book drips with authenticity, despite the fantastical elements wove into the historical narrative. Colonial Boston really comes alive here, and the story draws you in quickly, compelling you to read onward with every page. A not to be missed new series.
How about you? Which urban fantasies and authors have surprised you in a good way lately? We'd love to hear about it in comments.
---
Bryan Thomas Schmidt is an author and editor of adult and children's science fiction, fantasy and humor books, short stories and articles. A frequent contributor to blogs like SFSignal, Adventures In SF Publishing, Grasping For The Wind and To Be Read, he also hosts Science Fiction and Fantasy Writer's Chat under the hashtag #sffwrtcht on Twitter and blogs about writing and creativity on his own blog at www.bryanthomasschmidt.net/blog. Connect With Bryan On Google+
Join our email list
Never miss another "to be read" book!