In the recent annals of guerilla political stunts, the creative campaign of McCann XX on behalf of the Troy, Michigan library system is mind boggling brilliant.
When the Troy, Michigan library system was facing a local vote that would have cut taxes and doomed the local library, the library system turned to Leo Burnett/Arc Worldwide advertising agency in utter desperation. "All we've got is $3,500 to battle this anti-tax measure, can you help us."
And the next time you hear someone bitching about callous advertising execs, think about the Leo Burnett/Arc Worldwide team. They took the challenge and dove right in.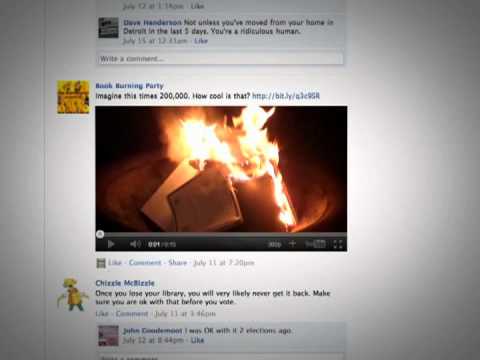 Their solution? A good ole book burning. Drink up and pass the lighter fluid.
The ad agency created an inspired campaign – driven by digital and social media – that clearly illustrated the real world impact of a vote that supporters had positioned as simply a vote to lower taxes. Those lower taxes would have been devestating to the local library, and the book burning campaign illustrated that devastation in a wickedly funny way.
Please vote for lower taxes and join us the next day at the library. We're eager to haul the books off the shelves, hand out matches and lighter fluid and let the burning begin.
Was the campaign just another notch in the coarsening of political discourse in the U.S.? We'll leave that for others to decide.
Supporters of the anti-tax bill had studiously avoided highlighting the impact of the tax vote – the destruction of the local library. Leo Burnett had to do something fast to show exactly what would happen. And their tactics to tell the library's story were brilliant.
The tax measure was roundly defeated and the Troy, Michigan library system survived and is hard at work doing what public libraries across the U.S. do every single day – giving people free access to books and information to enrich and improve their lives.
Join our email list
Never miss another "to be read" book!